Environmental Responsibility
At Honkarakenne, we are committed to working in the construction of our log homes, preserving nature, and safeguarding the operational possibilities of future generations the same or better than we have today.
Even though it is no longer possible to backtrack climate change, it is possible to mitigate it. Mitigation can take place by stopping the increase of greenhouse gas emissions in the atmosphere, meaning a decrease in the carbon footprint of products and operations.
Important ways of mitigating climate change include energy conservation, increasing energy efficiency, introducing renewable energies, the utilization of carbon sinks such as forests, and the sustainable use of natural resources. Technological development plays an important role in mitigation efforts. Read more about mitigating climate change on the Ministry of Environment website.
Honka's Environmental Promise
We are committed to:
Using only Finnish pine from sustainably managed forests
Ensuring the ecological integrity of our entire production process
Ensuring the energy efficiency and longevity of our log homes and their environmental friendliness
Continually working to improve our environmental responsibility
We use Finnish pine from a sustainably cultivated forests as raw material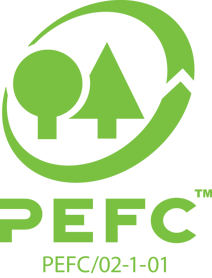 We are committed to only using wood from sustainably cultivated forests in our log buildings. All our buildings are produced from PEFC-certified Finnish pine.
Through the PEFC's Chain of Custody of timber, a company manufacturing or using wood products reliably ensures that the wood used has been sourced from sustainably managed forests. As a purchaser carrying out sustainable solutions, the PEFC-mark guarantees you that the logs used in the construction of our log houses are sourced from a sustainably managed forest. Each link in the supply chain, audited by an independent party, demonstrates, on its own behalf, that the passage of the timber has been monitored closely.
A person living in a Honka log house may rest assured that each felled tree is replaced by a new tree seedling that will eventually grow into a new forest
PEFC advances every different area of sustainability in its operations
Ecological sustainability means the preservation of the habitats and types of natural environments which characterize the forest and ensure the survival of species.
Social sustainability means safeguarding the working conditions and working capacity of those working in the forest, the rights of indigenous peoples, the cultural values of the forests, the trails and short-term camping in forests, and the ability to gather berries and mushrooms.
Financial sustainability means that operations can be profitable for all those involved in the production chain.
Our manufacturing process is ecological
Our houses are built in Finland by domestic resources. We produce all the buildings on order at our factory in Karstula, Central Finland. During production, we follow ecologically sustainable principles from the raw materials to the finalized building.
The energy used for the production of wood for construction purposes is very low – only half of the energy is required for cement and 20% for brick. We also use our raw materials from wood carefully. The small residue resulting from production are used in the production of thermal energy.
Our log houses are climate-friendly
Homes that last from one generation to another
Carefully built and maintained log houses last a long time. The same house can be passed from father to son and grandson – and for several generations to come. Log houses, which have served their inhabitants for hundreds of years, are still standing in Finland today.
The builder of a modern log house can be satisfied that they are creating something permanent. When the modification possibilities of the premises are already considered during the design phase, a longer life cycle of the house is achieved when life situations change. When we build based on the idea of a long life cycle, we also do not waste resources during construction.
Small carbon footprint
The carbon footprint of a log is small because growing a tree results in the trees' capture of carbon dioxide. It only takes the timber about three months to be transformed from wood growing in the forest to lamellar and lumber. The wood in a log house also acts as a carbon sink.
Log houses have a small carbon footprint during their lifecycle compared to wooden houses. As a company, environmental values are very important to us and we constantly renew our production in order to create a more energy-efficient and wood-saving methodology.
According to a study by VTT in 2013, an ecological log building does not consume as much energy or produce as much carbon dioxide emissions during its entire life cycle as a corresponding conventional wooden house.
"In the study, greenhouse gas emissions from materials used in log houses were about one-third lower than those in basic wooden houses over a 50-year life cycle".
Research shows that the well-known qualities of logs will be further highlighted when the energy efficiency directives of the future include the environmental impact of materials.
Read more: CO2 Report (In Finnish)
Naturally energy efficient
A Honka-home is also an ecologically sustainable choice due to its high energy efficiency. An essential factor of energy efficiency is derived from the consistency of the house. The breathability of a log wall does not mean that air would move between the logs – quite the contrary. A well-designed and well-built log house possesses the highest consistency. The modern solutions that we have developed have significantly improved the energy efficiency of log houses.
Solid log provides good resistance to heat fluctuations, saving energy throughout the life cycle of the house. Also, the more impermeable the insulation of a log house is, the more energy-efficient the house itself.
Honkarakenne has collaborated with various research institutes for decades now, for example, in the area of energy efficiency. In independent tests, homes made of non-settling Honka Fusion logs have proven to be both extremely airtight and energy-efficient. The best technical solutions in the market will guarantee the energy efficiency of your home in the future. The insulation of a log house built by Honka can also be implemented as an additional insulated solution.
Patented technology for your benefit and respecting nature
Quality is found in the details and state-of-the-art technology. Here are some examples of our patented solutions:
We guarantee to make the corners of your home insulated with advanced Honka arch locks. Between logs, we use a high-quality Protech™ sealant for seams or HonkaTech™ sealant. We have developed a special sealing technique around the windows and doors. Honkarakenne's log houses have received several measurements of n50 consistency values of up to 0.5 l/h, where value 1 signifies excellent.
The Honka Fusion™ home is up to twice as concise as an average log home. This is because of the design work, advanced production technology with quality assurance and high-quality construction performed by our skilled partners. The end result is an energy-efficient and finely detailed solid wood home.
If you wish, you can have your Honka home built with extra insulation so your log home can be graded A or B energy class. The functionality of these additional insulated structural solutions has also been verified by independent research.
We use modern production technology in order to process the wood into state-of-the-art building materials using state-of-the-art wood processing technology.
Did you know?
🌿 One detached house of log (145m2) binds about 46,000 kilos of carbon dioxide to the finished log house. A high carbon stockpile like this offsets the family's use of an internal combustion engine for over 24 years. *
🌿 Wood is a renewable material. The log cubes needed to build one detached house grows in Finland in less than a minute on a summer day. *
🌿 Wood has been shown to have similar psychological effects as forest wildlife. Wood calms the body and lowers blood pressure, heart rate, and stress levels. **
🌿 The log walls balance out the humidity variations of indoor air and improve its quality. According to several studies and surveys, residents living in log houses are satisfied with the quality of the indoor air.  ***
*  Source: Environmental product declaration conducted for Finnish Log House Industry by Luke, Natural Resources Institute Finland
** A summary of the study is available in German here.
*** Source: Simonson, Salovaara, Ojanen: Improving Indoor Climate and Comfort with Wooden Structures. VTT Publications, 2001.
Because nature is important to us we have collaborated with Ailo's Journey movie which speaks out for the fragile nature of Lapland.
Read more in the blog